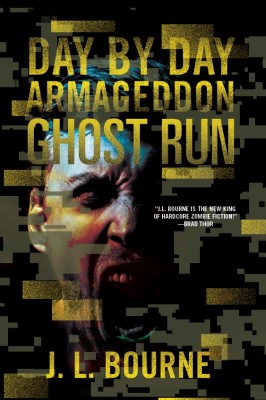 DAY BY DAY ARMAGEDDON is back with GHOST RUN (Book 4)! Written in the first person journal format, pick up GHOST RUN and follow Kil once again through the badlands of a post-apocalyptic nightmare.
About the Book
In a desperate bid to survive a world forever altered…as the hordes of bloodthirsty undead now dominate the ravaged U.S. landscape….a military officer on a reconnaissance mission for basic supplies stumbles upon an incredible secret about the possibility of reversing the pandemic's devastating effects that have annihilated everything in its path. Now there's no turning back—with only his lifelong-honed skills and the aid of an extraordinary construct, he leads a one-man rescue mission to find Task Force Phoenix and humanity's final hope. And the agonizing, split second decisions he must make along the way could mean living one more day—or surrendering to the eternal hell that exists between life and death.
"Ghost Run is a suspenseful, gripping, and intelligent thriller that will terrify die-hard horror fans and reinforce J.L. Bourne's reputation as "the king of hardcore zombie fiction!" (Brad Thor, author of Act of War)."
Other Books in "Day by Day Armageddon"
Disclosure of Material Connection: Some of the links in the page above are