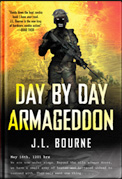 The original that started it all. Once on the fringes of horror, the "zombie apocalypse," has become one of the most buzzworthy genres in popular culture. Now, in Day by Day Armageddon book 1, J.L. Bourne delivers an intelligent, gripping thriller that will leave both new and die-hard zombie fans breathless.
About the Book
Day by Day Armageddon (book 1).  The project started on a simple pad of paper and from there propagated the universe of worldwide undead devastation.  J.L. Bourne intended the original work to appear as if it were hand written—very raw and realistic.  He began uploading his work piece by piece to the Internet depicted as a simple serial of journal entries.
The online journal was intended to immerse the reader into the world that was Day by Day Armageddon—J.L. Bourne's vision of one man, on the run from billions of undead, surviving against all odds.
Other Books in "Day by Day Armageddon"
Disclosure of Material Connection: Some of the links in the page above are