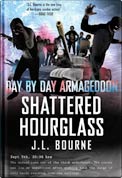 Book 3 of the acclaimed military thrillers of the zombie apocalypse from the author of Day by Day Armageddon and Day by Day Armageddon: Beyond Exile!
About the Book
In a desperate bid to take back the continental United States—where hordes of undead now dominate the ravaged human population—a Navy commander leads a global mission to the heart of the pandemic. Task Force Hourglass is humanity's final hope, and his team's agonizing decisions could mean living one more day—or surrendering to the eternal hell that exists between life and death.
Other Books in "Day by Day Armageddon"
Disclosure of Material Connection: Some of the links in the page above are