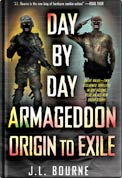 Omnibus edition. A great value—Day by Day Armageddon 1 & 2 in one volume, plus an exclusive short story!
About the Book
Two shattering accounts of human survival on the jagged edges of global disaster…handwritten journal entries from the front lines in the war between scattered bands of mortal refugees and their soulless, undead enemies, armies of diseased corpses hungering for human flesh.
DAY BY DAY ARMAGEDDON
The novel that started it all!
DAY BY DAY ARMAGEDDON: BEYOND EXILE
The chilling sequel—chaos and violence across a Texas wasteland.
ALSO INCLUDES THE ALL-NEW SHORT STORY "IF YOU CAN READ THIS…"!
"A dramatic spin on the zombie story." —Jonathan Maberry
"A visceral insight into the psyche of a skilled survivor." —Gregory Solis
"Fantastic…J.L. Bourne is the new king of hardcore zombie action!" —Brad Thor
Other Books in "Day by Day Armageddon"
Disclosure of Material Connection: Some of the links in the page above are