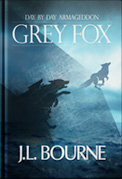 A nail-biting short story that takes place years after GHOST RUN (book 4). Decades post-apocalypse, a man sets out on a perilous voyage into the undead badlands. His mission? Download and find out; but first, check your doors, better make sure they're locked. Proviso: this is a 45-60 minute read, not a full length novel.
About the Book
Time is a very fluid thing, no one really has a grasp on it other than maybe how to measure it. As the maestro of the Day by Day Armageddon Universe, I have the latitude of being in control of that time. I can adjust the slider either direction, moving the timeline back and forth along the continuum. This is one of the perks of creation, the benefit in constructing something (albeit small) from nothing. Sort of makes you wonder what the maestro of the universe is up to, no? You have again stumbled upon a ticket with service through the apocalyptic wastes, but this time the train is a little bit older, a little more beat up, and maybe a little wiser.
Other Books in "Day by Day Armageddon"
Disclosure of Material Connection: Some of the links in the page above are