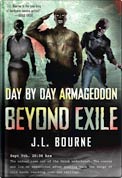 The gripping sequel to the original Day by Day Armageddon. Lock your doors.
About the Book
Day by Day Armageddon: Beyond Exile (book 2) picks up the moment the first novel ended. Armies of undead have risen up across the U.S. and around the globe; there is no safe haven from the diseased corpses hungering for human flesh. But in the heat of a Texas wasteland, a small band of survivors attempt to counter the millions closing in around them.
Other Books in "Day by Day Armageddon"
Disclosure of Material Connection: Some of the links in the page above are